2023 Kia Niro Hybrid vs. 2023 Toyota Prius Comparison
The Kia Niro and Toyota Prius were both redesigned from the ground up for 2023, and came out looking dramatically better as a result. The Niro got ultra-modern looks with its cool contrast-color aero blades and dramatically updated cabin. The Prius, once known for its dowdy look, got sexy with a sleek new body.
But, at heart, both cars are attractive because they're practical hybrids. Let's see how they stack up. A quick note: Both are also available as plug-in hybrids, and the Niro as a pure electric car. This comparison looks at their hybrid options.
2023 Kia Niro Hybrid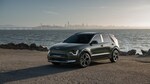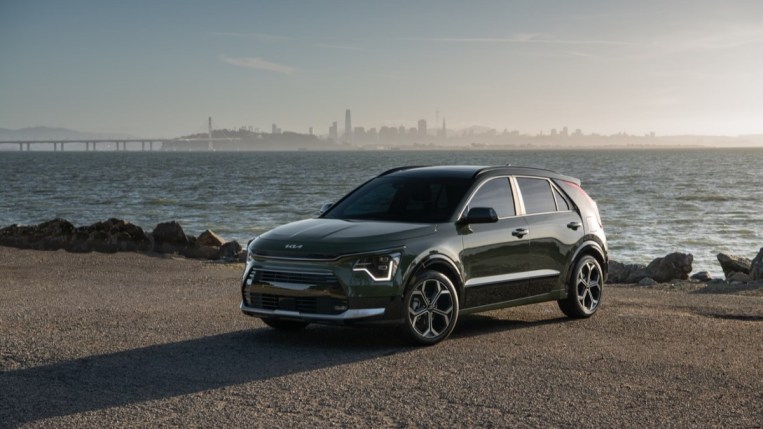 The Kia Niro is all-new for 2023, with a cool new look crowned by a set of contrast-color aero panels at the rear. The Niro is a lineup all to itself, available as a hybrid, plug-in hybrid, and electric car. The 2023 Niro hybrid uses a 1.6-liter 4-cylinder engine combined with a lithium-ion battery and an electric motor. Together, they make 139 horsepower. Kia sells five grades of the 2023 Niro, starting at $26,590.
Kia Niro Hybrid Highlights
More room in almost every dimension: The Prius beats the Niro in one passenger cabin measurement — front seat legroom, where both cars have plenty for almost any driver's need. The Niro, however, has more headroom in both rows, more shoulder room, and considerably more rear-seat legroom. If you're over 6 feet tall or routinely carry people who are, the Niro is your best bet.
High-quality cabin: Both cars are new designs, and neither cabin looks dated. But Kia's designers have been on a roll recently, and the Niro reflects that. The dashboard, particularly with the optional dual 10.25-inch screens for the instrument cluster and infotainment systems, looks like something out of a luxury car.
Smart warranty coverage: Kia's 5-year/60,000-mile bumper-to-bumper warranty and 10-year/100,000-mile powertrain warranty remains unbeaten. They also remain great reasons to pick the car that will have major parts under warranty into the 2030s.
Check this week's Fair Purchase Price or see the Kia Niro hybrid models for sale near you.
2023 Toyota Prius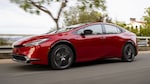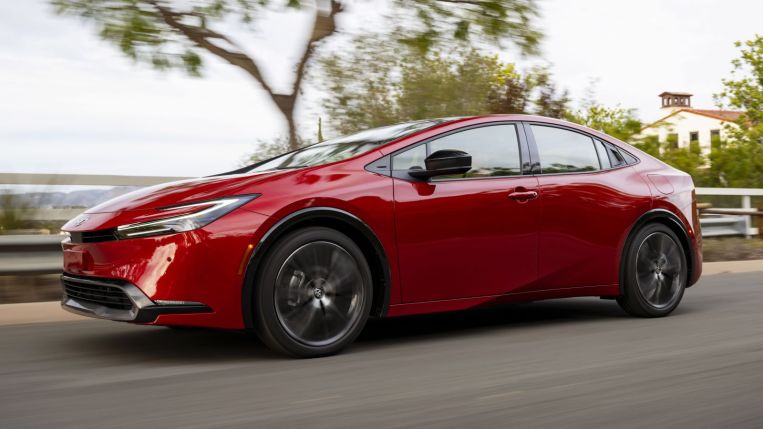 You know all about the Toyota Prius — it's the car that made hybrids mainstream. But you may not know the 2023 Toyota Prius. A complete redesign for 2023 took a car known for a frumpy look and nerdy appeal and made it into something you'd buy because of how it looks. The new Prius is as fuel-efficient as the old one but more fun to drive and much better looking. Prices start at $27,450.
Toyota Prius Highlights
More fuel efficient: The Niro gets 49 mpg in combined driving. The Prius gets 57. Why are you buying a hybrid? If it's for hybrid fuel economy, the Prius wins.
More horsepower: A front-wheel-drive Prius makes 194 horsepower. An all-wheel-drive one makes 196. The Niro gets just 139. You'll feel that difference when it's time to pass on the highway or if your travels involve a lot of hills.
Available all-wheel-drive (AWD): Hybrids have come a long way in recent years, but they remain less-than-ideal cold-weather cars because the low rolling resistance tires that help them get great fuel economy aren't as grippy as what you might be used to. The Prius, though, can be a decent car even where it snows regularly, thanks to an AWD option. The Niro doesn't offer one.
Check this week's Fair Purchase Price or see the Toyota Prius models for sale near you.
Similarities
They're both fuel-efficient hybrids with similar starting prices and similar sizes. Each has a striking new design that takes hybrids from boring to eye-catching.
Conclusion
The 2023 Kia Niro is closer to a compact SUV; the Toyota Prius is a five-door hatchback. Both are available as fuel-efficient hybrids, and both, after recent redesigns, look far cooler than anyone thought a hybrid could look a few years ago. The Niro brings with it more cabin space and the longest warranty in the automotive business. The Prius saves you more on fuel, has almost 60 more horsepower, and offers AWD.
Either could be the right solution for you, depending on your priorities.
Specifications
| | | |
| --- | --- | --- |
| | 2023 Kia Niro | 2023 Toyota Prius |
| Starting Price | $26,590 | $27,450 |
| Popular Powertrains |   | |
| Engine | 1.6-liter hybrid 4-cylinder | 2.0-liter hybrid 4-cylinder |
| Horsepower | 139 hp @ 5,700 rpm | 196 hp @ 6,000 rpm |
| Torque | 195 lb-ft | 139 lb-ft |
| Transmission | 6-speed dual-clutch automatic | CVT |
| Fuel Economy | 53 city/45 highway mpg | Estimated 57 mpg combined (city/highway TBD) |
| Also Available | PHEV, EV | AWD |
| Specs |   | |
| Basic Warranty | 5 years/60,000 miles | 3 years/36,000 miles |
| Powertrain Warranty | 10 years/100,000 miles | 5 years/60,000 miles |
| NHTSA Overall Safety Rating | TBD | TBD |
| Max Seating Capacity | 5 | 5 |
| Wheelbase | 107.1 inches | 108.3 inches |
| Overall Length | 174.0 inches | 181.1 inches |
| Width | 71.9 inches | 70.2 inches |
| Height | 60.8 inches | 55.9 inches |
| Turning Diameter | 34.8 feet | 34.4 feet |
| Headroom, Front | 40.5 inches | 38.0 inches |
| Headroom, Rear | 39.6 inches | 36.4 inches |
| Legroom, Front | 41.5 inches | 43.2 inches |
| Legroom, Rear | 39.8 inches | 34.8 inches |
| Shoulder Room, Front | 56.3 inches | 55.3 inches |
| Shoulder Room, Rear | 55.4 inches | 52.8 inches |
| Cargo Volume | 22.8/63.7 cubic feet | 23.8/91.2 cubic feet |
link