Evo Car Share reverses $800 charge and offers tips for 'ending' trips
Company says users shouldn't rely solely on trip-ending function, noting it's wireless and can fail in underground lots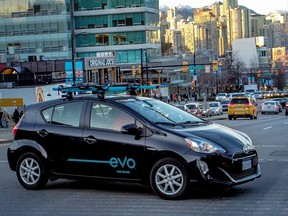 Article content
Khris Collins lives on the University of B.C. campus and sometimes uses a Evo Car Share vehicle to get to or from work in Yaletown.
Article content
He recently went to book a car rental and noticed his trip from the night before hadn't been ended in the system, so he emailed the company and was told the issue had been fixed.
Article content
A week later, he was aghast when he saw his account had been charged $800 for a six-day, 18-hour car rental that never happened.
He emailed the company again and called it. At one point, he was told he could get a refund for the $800 charge and instead be charged a fee of $100 for a day's use and a penalty of $100 for an unlocked car. But until a day ago, he had a charge of $1,000 on his account.
On Saturday, "they moved to cancel the crazy charge, but they're still charging me the penalties of $200 because of this charge, which doesn't make sense."
He has been told that what possibly happened was that the trip didn't end properly because there was an error in the car's GPS. It didn't show that the car was parked in its "home zone" and that's why the trip didn't end, said Collins.
Article content
Dave Wharf, Evo's senior manager of business operations, said he would like to look into the specifics of Collins' case, but he offered some general tips and context.
"Originally, when we started, you had to actually end your trip via the app or use the card. So it meant that you actually had to do a step to make sure that trip was ended," said Collins.
Then, Evo's competition in the market, which was Car2go at the time, offered an auto-lock function, which allowed drivers to park, close the door and walk away. The car would lock itself and end the trip. Collins said Evo had a lot of members who were using both services and it meant they were seeing many of their vehicles being left unlocked.
So, Evo added a similar function.
Article content
However, Collins advises against relying solely on it because there are several conditions that have to be in place for it to work properly.
"You have to make sure the key is in the slot in the glove compartment. You have to make sure the vehicle is turned off and because it's a hybrid, a lot of times, when you stop, you can't hear the motor. So people forget the engine's running and they close the door and walk away."
He recommends standing by the car, manually ending the trip by hitting the "end trip" button on the app and waiting to hear the door click. A user can further check by seeing if cars in the nearby area are available for booking. That can only happen when a trip has ended and the app is offering the next option.
"I say this to everyone, 'Just take your time and make sure,'" he said.
Article content
It's wireless technology, so sometimes in deeper, underground parking lots, the app might not connect properly, said Collins. Drivers in that situation can make a call to Evo from their cellphone and the company can remotely and easily handle the ending of a trip.
The company has information about vehicle locations and routes based on GPS technology and it reviews this when making decisions about a customer's objections to a charge, said Collins.
ICBC bill to cyclist reinforces need for riders to have insurance, advocates say

Metro Vancouver gas prices on the rise again, expected to keep climbing
---
Support our journalism: Our in-depth journalism is possible thanks to the support of our subscribers. For just $3.50 per week, you can get unlimited, ad-lite access to The Vancouver Sun, The Province, National Post and 13 other Canadian news sites. Support us by subscribing today: The Vancouver Sun | The Province.
link