SPEE3D tapped to bring cold spray additive manufacturing tech to the US Naval Postgraduate School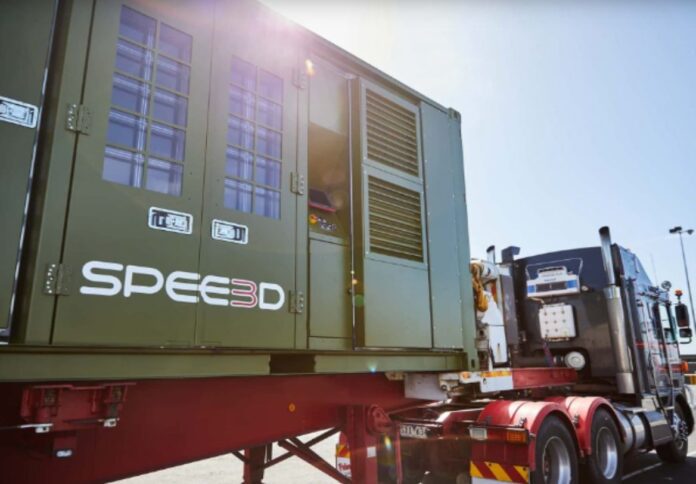 Victoria-based additive manufacturing company SPEE3D has teamed up with the Consortium for Additive Manufacturing Research and Education (CAMRE) to bolster the adoption of metal-based additive manufacturing to support the US Tri-Service Maritime forces, which includes the Navy, Marine Corps, and Coast Guard.
The US Naval Postgraduate School's XSPEE3D printer will be used by research and development specialists, PhD candidates, and military graduate students, the company said in a news release.
CAMRE intends to use the XSPEE3D printer and its proprietary Cold Spray Additive Manufacturing (CSAM) technology to explore its Maintenance, Repair, and Operations (MRO) role for surface and subsea ships and vessels, as well as aircraft and ground equipment. 
During contested military trials and exercises, they will test and evaluate SPEE3D's CSAM capabilities on the ground and onboard an amphibious warfare ship.  
"The Naval Postgraduate School chose the XSPEE3D metal 3D printer because of its expeditionary nature that allows it to be contained inside a rugged and deployable metal container and deployed anywhere, including harsh field conditions," stated Chris Curran, program manager for CAMRE. 
He added, "Uniquely, it runs on heated compressed air and does not require inert gasses or lasers, reducing risk to the operator. We were also impressed with its capabilities relating to build speeds and maximum part size and its lineup of current and future materials." 
The announcement comes on the heels of a successful field trial of SPEE3D technology during the Marine Corps Annual Integrated Training Exercise (ITX) 4-23.
SPEE3D collaborated with CAMRE to install WarpSPEE3D to print critical parts that were broken and brought from ground support. SPEE3D was the sole company invited to participate in the exercise.
Chris Harris, SPEE3D vice president of Defense in the Americas, expressed his delight to work with CAMRE to provide access to the CSAM technology, which will allow them to further integrate efforts with SPEE3D, as well as NAVSEA and Penn State University's Applied Research Lab.
The Naval Post Graduate School is the latest organisation to use SPEE3D's proprietary cold spray metal AM technology, joining MTC and the British Army in acquiring an XSPEE3D since its formal launch last year at Land Forces 2022. 
SPEE3D technology will also be employed in other initiatives in the United States, such as the production of sub-safe materials for US Army submarines. 
Additionally, XSPEE3D will be tested later this year to determine its potential to effectively create metal parts under freezing temperatures as part of the Office of the Secretary of Defence Manufacturing Technology "Point Of Need Challenge." 
link