The Engineer – C2I 2022: Manufacturing Technology shortlist

Runners up in this year's manufacturing technology category ranged form innovations in underwater repair technology to a specialist centre aimed at driving up industrial applications of additive manufacturing
---
Project: RESURGAM (Robotic Survey, Repair and Agile Manufacture)

Partners: Forth Engineering with TWI; University of Lancaster Joining 4 Innovation Centre; Element Six; ACLUNAGA; AISTER; European Welding Federation; University of Limerick; TU Delft: STIRWELD; Engitec Systems International; GISBIR.
Funded by the European Commission and involving thirteen project partners from nine European countries, the RESURGAM project is developing a pioneering underwater welding robot that could be used to repair damaged ship hulls out at sea.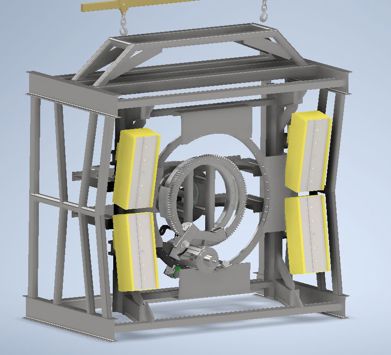 Claimed to be the first of its kind, the remotely-operated Friction Stir Welding (FSW) robot is now at an advanced stage after a concept design for the system was finalised. A first concept design for both the welding head and the frame mechanics has been completed and is currently being developed further.
The project is led by Cumbria's Forth Engineering, which has drawn on its previous experience producing a range of bespoke FSW tools for hazardous environments such as the FSWBot, a pioneering robotic crawler which can be operated from a remote distance and has been devised for internal repair and refurbishment of oil pipelines.
One of the key innovations has been the development of an electromagnetic system for securing the weld head to a ship's hull. The tool will shortly be trialled in Forth Engineering's Deep Test Pond, which is one of the largest facilities of its kind in the UK.
The team claims that the device, which is expected to be available to industry in 2023, will save the marine sector millions of pounds each year.
---
Project: Modular Assembly System (MASS)
Partners: IAC group LTD with RARUK LTD , Sorion electronics ltd and RNA Automation LTD
The MASS project has seen the development of a new flexible manufacturing system for the production of automotive car doors.
Typically a door casing assembly line will be made up of four separate elements: picking of parts; assembly; fixing / welding and inspection of the finished product. These are usually a collection of individual cells where the product is moved from one part of the process to another via trollies, conveyors or operators.  In contrast, the modules at the heart of the MASS system are interconnected by automated intelligent vehicles and controlled by a central system that allows the line to flex and work both within sequence and batch build environments.
While the individual elements are all based on existing technologies the key to the project's success has been bringing all these elements and systems together to operate as one. This has involved the close collaboration between the various team members.  
According to IAC, whilst typical tooling investment and timing for would run to £3 – 4 million and 32 weeks, the MASS system can be deployed much more rapidly and at considerably lower cost.
---
Project: AutoClock
Partners: Metrology Software Products Ltd (MSP), Renishaw and RLS
Developed as part of a drive to remove errors from machining processes, AutoClock is a first of its kind product designed to automate the process for setting up and calibrating a touch probe on a CNC machine tool.  According to its developers the technology could help make the dream of full 24/7 lights-out automation a reality for the first time by replacing the last manual element of the CNC process.
When placed on a machine tool bed, the machine doors are closed and AutoClock  uses digital electronics and a repeatable mechanical mechanism to calculate the position of the calibration artefact to within one micron. This result is automatically uploaded to the controller, with no human intervention needed at any point.
The product is the result of a collaboration between UK firm MSP, Slovenian company RLS and Gloucestershire engineering firm Renishaw. Whist MSP led the project, Renishaw helped identify the key components that would be required for the device to work, whilst RLS developed the specialised linear encoder at the heart of the device.  Both MSP and RLS are associate companies of Renishaw.
The finished product was extensively tested at Renishaw's Innovation Centre in Gloucestershire and has been available as a commercial product since 2021.
---
Project: Digital Manufacturing Centre
Partners: KWSP  with Renishaw, Beckhoff, Laser Lines, Stratasys, DyeMansion, SEMLEP, Satellite Applications Catapult, Enable Manufacturing, and Spectroplast AG
The Digital Manufacturing Centre (DMC) is a production facility and innovation hub, located at Silverstone Park, aimed at helping UK industry to realise the potential of end-to-end, digitally-connected additive manufacturing (AM).  
Part-funded by SEMLEP's Local Growth Fund and led in conjunction with high-performance engineering consultancy KW Special Projects (KWSP) the facility has been developed alongside a number of key industry leaders, partners and collaborators from across the AM sector.
The centre also works with providers of other manufacturing technologies that complement its AM production. Enable Manufacturing, for example, offers Additive Casting process through the DMC. Spectroplast AG, a patented AM production solution for silicone is also sold via the DMC.
While the DMC has only been active in the market for one year, it has already made an impact on the sector and its customers. It has quickly risen as a UK leader in AM and driven industry conversation around AM adoption and viability and is now developing innovative solutions to problems in the space, aerospace, automotive, motorsport, MedTech and energy sectors, among others.
link