Used car 'bubble has burst,' says Ducker whitepaper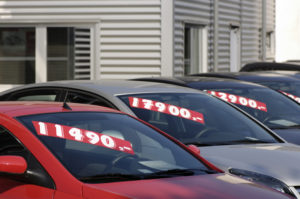 Used car 'bubble has burst,' says Ducker whitepaper
By Michelle Thompson
on
Insurance | Market Trends | Repair Operations

The growing availability of new cars, coupled with alleviating supply chain bottlenecks, is driving down prices on used cars, according to a new report.
Ducker Carlisle's most recent whitepaper noted that the used car boom had its moment in late 2021 and early 2022 thanks to a shortage of new vehicles.
"Used car prices reached new heights and the trade-in war became more intense," it said. "Low-mileage used cars were regularly priced above the new model MSRPs, and dealers were increasingly buying older vehicles with higher mileage, which they used to sell to used car specialists and used car lots."
However, the report said, the tide is now turning.
"The used car bubble seems to have burst since the second quarter of 2022," it said. "New cars have been slowly becoming more widely available, as supply chain bottlenecks finally start to ease."
It pointed to Manheim research that showed while wholesale used prices rose 2.5% month-over-month in January, used prices are down nearly 15% year-over-year.
Further complicating the used car market is a spare parts shortage that has driven up the costs of repairs.
"Alloy wheels have seen their price double and ornamental parts are sometimes missing," the report said. "Increasing labor cost is another item that high-mileage used car consumers must consider."
The senior engagement manager who prepared the Ducker Carlisle whitepaper said the rising cost of repairing used vehicles could cause more insurers to write off damaged vehicles.
Bertrand Rakoto told Repairer Driven News that insurers' decision to fix a vehicle or declare it a total loss relates to the value of the return.
"For example, with electric vehicles, there are very few parts available and they're very expensive," he said. "Therefore, when you look at a Tesla in an average fender bender, it makes more sense to total the car and sell it at the salvage auction yard.
"Cars are so expensive to repair that insurers are not going through the nightmare of making sure that the car is repaired in time so they don't have to pay for the rental and so on. And because of the price of parts, it's making more and more sense on some vehicles for the insurance to total the vehicle than make the repairs."
New vehicle prices
Rising inventories could be contributing to price drops among new vehicle fleets as well, the report said. While dealers normally have two to three months' worth of sales on stock, the pandemic brought those levels down to just a few days' worth, meaning the cars that came in were already spoken for.
Today, fleets are growing among dealerships, with some vehicles selling for less than their estimated values and higher interest rates on loans making buyers nervous, according to the whitepaper.
"Worse, many companies have inventories of vehicles [where] acquisition prices are above the current market value," it said. "The unloading of these volumes is necessary to generate cash flow, but each vehicle sold could ultimately lead to a loss."
Tesla is among the OEMs dropping sticker prices. Earlier this year it announced it would slash prices globally by 20%.
Image
Featured image: A row of used cars for sale. (acilo/iStock)
Share This:
Related

link