What Is a Mild Hybrid Vehicle?
Quick Facts About Mild Hybrid Vehicles
Honda beat rivals to the punch in marketing the first mainstream mild hybrid electric vehicle (MHEV) in the United States: the 2000 Honda Insight. Regardless of the origins of the MHEV, there are dozens of mild hybrids available in the U.S. market in 2023.
As carmakers struggle to broaden their offerings of electrified models, MHEV technology has provided a comparatively inexpensive solution. Consequently, such unlikely vehicles as the 2008 Chevrolet Silverado and 2008 GMC Sierra pickups boasted MHEV systems. This begs the question: What constitutes a mild hybrid vehicle? We will answer that question, as well as present a short MHEV history and a list of some 2023 MHEV models as you read on. Use the links below to skip forward in the article.
What Is a Mild Hybrid?
A mild hybrid system shoulders some of the electric load of the gasoline-fueled internal combustion engine (ICE) using a small electric battery feeding a low-output electric motor. These are most commonly referred to as 48-volt systems. Although it can't power the car on its own, the 48-volt MHEV system usually starts the car and also brakes or slows it. During the braking process, the MHEV recovers the kinetic energy created as the vehicle slows.
This is called regenerative braking. That energy is transformed into electricity and stored in the MHEV's battery. The MHEV system then draws on that stored energy to help the ICE accelerate the car from a standstill. Therefore, the ICE uses less fuel when accelerating from a stop, resulting in a modest gain in fuel economy.
Essentially, an MHEV system employs some or all of the following components to reduce the load on the ICE, lowing fuel consumption:
Modest electric motor
Small battery pack
Regenerative braking system
More powerful electrical system
Mild Hybrid vs. Traditional Hybrid
A traditional hybrid (HEV or BHEV) works in tandem with the ICE and can even power the vehicle for short distances at lower speeds on its own. This is because of its larger battery array and bigger motor. Whereas an MHEV can't power a vehicle on its own, thanks to its smaller battery and motor. In other words, the MHEV system's role is much less substantial than that of an HEV. This is reflected in the modest boost an MHEV system provides on overall fuel economy versus the significant increase delivered by an HEV system. Incorporating an MHEV system into a vehicle costs less than an HEV system, as well.
Mild Hybrid Benefits
If you want to dip your toe into the sea of electrified vehicles, an MHEV is a sensible place to begin. Here are the benefits you can expect with an MHEV:
Modest increase in fuel economy
Slight decrease in tailpipe emissions
Small increase in acceleration from a stop
Unlike an HEV, which can travel short distances at low speeds solely on electricity, a mild hybrid never operates as an electric vehicle (EV). Instead, it allows the ICE to shut off when coasting or braking, eliminates the belt drives that an ICE requires to run certain components, and powers the more robust electrical architectures that modern vehicle technologies require.
As a result, a mild hybrid can be up to 20% more fuel-efficient than the same vehicle without this type of powertrain.
Honda beat General Motors to MHEV technology by adopting it for its ground-breaking 2-seat hybrid, the Insight. Honda's Integrated Motor Assist (IMA) system used an electric motor placed between the engine and transmission. It started the car's ICE, assisted with acceleration from a stop, and shut off the ICE when the Insight was stopped in traffic or at an intersection.
Honda improved its IMA technology with the debut of the 2006 Civic Hybrid, which could coast without the ICE turned on. However, because the system still couldn't power the car solely on electricity like the Toyota's Hybrid Synergy Drive in the Prius could, the Civic Hybrid remained a mild hybrid.
At about the same time the Civic Hybrid hit the market, General Motors rolled out the Saturn Vue Green Line. It was a plastic-fantastic compact crossover SUV equipped with a Belt Alternator Starter (BAS) system assisting a 2.4-liter 4-cylinder engine. An electric motor, a 36-volt nickel-metal hydride battery, and a regenerative braking system improved fuel economy by turning the engine off when the SUV was stopped and assisted with acceleration from a stop.
Ultimately, the Vue Green Line's powertrain technology gave rise to eAssist, which became standard in the 2012 Buick LaCrosse and, in 2013, the Buick Regal. Making a mild hybrid powertrain standard in a car was an odd move. As usual, GM was ahead of the curve.
More than 10 years later, many car companies started adopting standard mild hybrid solutions to improve fuel economy.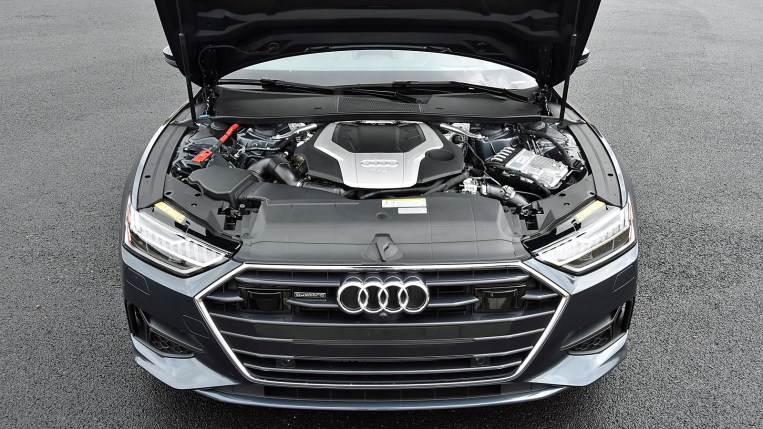 General Motors is out of the hybrid business, having phased out its mild hybrid eAssist system with the 2013 Chevy Malibu. However, other carmakers have picked up MHEV technology along the way. And some, like BMW, Volvo, and Audi employ it across the majority of their models.
BMW
BMW has aggressively pushed the MHEV envelope, using the technology in more than 50 models spread across its entire model landscape.
Land Rover
Land Rover powers its entire model lineup, except the Discovery Sport, using engines with an MHEV system. If the MHEV assistance isn't enough, the Range Rover and Range Rover Sport Autobiography can be dressed out with a plug-in hybrid (PHEV) system.
Mercedes-Benz
Another carmaker offering an MHEV system across a wide swath of its model lineup, Mercedes-Benz offers SUVs, sedans, and coupes with some electric boost.
Kia
Kia offers its 2023 Sportage SUV as either an MHEV or PHEV, in addition to a traditional ICE powerplant.
Jaguar
To explore the Jaguar MHEV system, you must pick the I-Pace.
Volvo
Four Volvo models deliver an MHEV system: XC90, XC60, and XC40 SUVs, as well as the S90 sedan.
Jeep
The Grand Cherokee 4xe and the Wrangler 4xe carry the MHEV banner for the Jeep brand.
Ram
Ordering your Ram 1500 with eTorque gives you a 3.6-liter V6 with an MHEV system.
Audi
Most Audi models offer an MHEV system, beginning with the A3 and running up through the A8.
Types of Hybrids
There are three basic types of hybrid systems. We've touched on two of them already; however, for clarity's sake, we'll briefly describe each below. We've also added a fourth hybrid type that's rarely talked about because it isn't currently available on production models.
Hybrid (HEV)
A full hybrid system combines an ICE with a battery and electric motor to share the duties of propelling a vehicle. Technically, this is called a parallel hybrid because the ICE and HEV components operate alongside one another. It's possible for most such HEV systems to propel the vehicle for short distances and low speeds on its own. However, the vehicle's drive wheels usually receive power from the ICE, or the ICE and HEV system combined. The HEV system is self-contained, feeding the battery with electric output from the ICE's generator, as well as through the regenerative braking system.
Mild Hybrid (MHEV)
An MHEV is a less grand and more affordable ICE-and-hybrid setup producing less dramatic fuel savings. It's still a combination of the ICE, a battery, and an electric motor, but the battery and motor are much smaller. Where a full HEV can send power directly to the wheels, an MHEV instead provides a boost of energy to the engine when accelerating from a standstill. It can also manage some of the load from power-hungry systems like air conditioning. As with an HEV system, an MHEV system's battery is charged through the ICE and regenerative braking.
Plug-in Hybrid (PHEV)
A PHEV can usually propel a vehicle on electric power alone for 25-35 miles. When the battery empties, the ICE kicks in to power the wheels. Although a PHEV battery can draw a charge from the ICE and regenerative braking system, it can also recharge by plugging into an outside source. This plug-in capability, as well as a larger battery array than an HEV, is what allows a PHEV to travel on electric-only power.
Range Extender Hybrids
Think of range extender hybrids as full EVs in which the vehicle relies solely on battery power to spin the wheels but provides a small ICE to recharge the battery when it runs out of juice. That is, the ICE acts like a generator to create the electric current needed to keep the motor running and recharge the battery. The Chevy Volt was a range extender hybrid.
Related Articles:
Editor's Note: This article has been updated for accuracy since it was originally published.
link